[ad_1]
'Winnipeg did a good job of staying up, nice and tight, but we have to learn how to handle that type of pressure,' assessed head coach Ryan Huska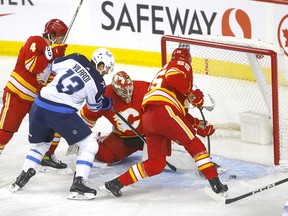 Article content
The concern, for Ryan Huska, wasn't about the way the Calgary Flames defended in their own end.
Article content
It was more about the way they kept giving the puck back to the Winnipeg Jets in their season opener on Wednesday night.
Article content
That's where the Flames head coach saw the chances coming from.
There's been a lot of talk about the Flames' off-season change from a man-to-man defensive system to zone coverage. It relies on more communication. There's less chasing your opponents around. There's supposed to be help if the guy you're covering gets into open space.
Zone defence only works, though, if you're not handing the puck back to your opponent when you regain possession.
"I think more of the coverage issues came from our management of the puck, more than anything," Huska said on Thursday morning. "We gave the puck up way too easily last night at times, and then at other times we forced it when we should have just been putting it behind them.
Article content
"Winnipeg did a good job of staying up, nice and tight, but we have to learn how to handle that type of pressure."
Every NHL team is a work in progress at this point. No matter how much you worked on things in training camp, the speed of the game picks up dramatically once the regular season kicks off.
You find out what you have to improve on, and then, well … you get to work fixing those issues.
And on Wednesday night, the Flames ultimately overcame a Jets team that probably deserved a better result than they got. The Flames won 5-3.
Recommended from Editorial
SNAPSHOTS: Flames goalie Markstrom starts season with superb performance

Prospect report: Dustin Wolf is back with the AHL's Wranglers — so now what?
They got big goals in big moments from their star players and didn't combust when the Jets tied things at 3-3 with less than six minutes to go. Goals from Elias Lindholm and Andrew Mangiapane sealed the deal.
Article content
Given how similar games went last season, the Flames have every right to feel like they've made some progress over the summer.
"I don't think we would have won that game last year," said Flames defenceman Nikita Zadorov. "When things got hard, we stuck with it. Obviously wasn't going our way, I feel like Winnipeg played better than us, but at the end of the day our character showed and our top players stepped up and scored big goals for us."
It was a good night, in general, with lots of reasons to feel hopeful if you're a Flames fan.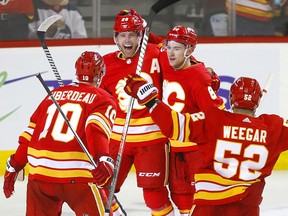 But they did struggle to get the puck out of their own zone. There's no denying that, and the result could have easily gone the other way had Jacob Markstrom not been absolutely lights out between the pipes.
Article content
So as the Flames embark on a five-game road trip that will see them in the Eastern U.S. for the next 10 days, there's going to be a focus on retaining the puck and breaking out of their own zone cleanly.
"I think it's awareness from your wingers a lot of the times and I think it's your defencemen making the confident play, whether that's on the tape or up and behind," Huska said. "We're getting there. It's not there yet, you can tell, but that's a big part of the game.
"When everybody's kind of in sync, things flow. When they're not quite at that connected level, it's choppy."
On purpose, totally
An enormous amount of focus is inevitably going to be paid to Jonathan Huberdeau's production this season.
After a disappointing first year with the Flames, the team is banking on him having a bounce-back campaign and putting up bigger numbers than the 15 goals and 40 assists he managed last season.
Article content
And, well, his first game of Year 2 was certainly encouraging.
Huberdeau finished the game against the Jets with two assists.
He also very nearly scored in the game's dying seconds when he won a foot race but subsequently rang his shot at the empty net off the post.
Fortunately, it bounced to Mangiapane, who put it in the net to seal the deal.
"I mean, thank god Mang put it in after, you don't want to start like that," Huberdeau said with a big smile on Thursday morning. "Obviously, would have been nice to have it, but it's good. I don't like empty-netters, so it's a pass off the post, that's what I meant to do."
Moving things around
The Flames made a couple of tweaks to their lines during Thursday's practice.
After being moved up to the first line to play with Lindholm and Huberdeau during Wednesday's game, Mangiapane remained there at practice.
Article content
Adam Ruzicka was bumped up to a second-line left-winger role alongside Nazem Kadri and Matthew Coronato, while Dillon Dube was on the left next to Mikael Backlund and Blake Coleman.
On the fourth line, Yegor Sharangovich was at centre next to A.J. Greer and Walker Duehr.
Getting the most out of Sharangovich — who was acquired in the trade that sent Tyler Toffoli to the New Jersey Devils this summer — remains a priority for the Flames, and they're still trying to figure out where he best fits into the lineup.
"He's a smart player, he sees the game really well and he has a good skill set that goes along with it," Huska said. "While he's trying to sort himself out, we're trying to also sort out where he fits in, where he's going to help our team have success. I think he's a good player and he's capable of a lot of good things. The challenge for him is to start feeling like he can be a little more assertive when he's playing the game. Demand the puck a little more, play with a little bit more edge and then I think we'll see his game have some success."
daustin@postmedia.com


[ad_2]
Source link