[ad_1]
"In Jersey, anything's legal as long as you don't get caught," croons Bob Dylan in the Traveling Wilburys' song, Tweeter and the Monkey Man. "As a Native New Jerseyan, I think, 'How dare you say that? But, it's absolutely true," said Derek Arnold, a senior instructor at Villanova University who researches political scandals.
New Jersey senator Bob Menendez was federally indicted for bribery last month by the US attorney's office, southern district of New York, which alleges he received gold bars, cash and a luxury convertible in exchange for political favors to three local businessmen. He pleaded not guilty to all charges.
Scandal-plagued, corruption-laden politics isn't just common in the Garden state. It can be a rite of passage, even a springboard for future campaigns. Menendez was indicted in a 2015 federal corruption case that ended in a mistrial two years later. In September 2013, Chris Christie appointees ordered the Port Authority to shut down lanes of traffic over the George Washington Bridge allegedly because the mayor of Fort Lee wouldn't endorse Christie, a scandal that later became known as Bridgegate. In 2004, then-governor Jim McGreevey resigned, announcing he had an affair with a man he'd appointed as a homeland security advisor.
Menendez has refused to resign – twice. Christie is running for president again. McGreevey is eyeing the Jersey City mayoral race.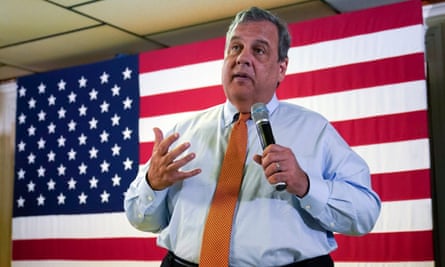 "We almost wear [scandal] as a badge of honor," Arnold said. "There's always been this little bit of challenger type of status New Jerseyans feel." Politicians there might not be proud of the accusations they face, but they do embrace it with an attitude of "that's what we do in New Jersey" and "only the strong survive".
He expounded: "In New Jersey, you aren't able to be recognized officially unless you have your accusations or connections."
Arnold said Menendez has double-downed on his actions, pointing to them as activities he does to benefit his constituents. In the state's political culture, the line is blurred between illegal corruption, private gains in exchange for specific benefits, and legal corruption, political gains in exchange for specific benefits.
"[Politicians and voters] see it as stuff that kind of comes with the job almost," Arnold said.
A Harvard study that measured political corruption by state supports Arnold's observations, with researchers ranking New Jersey in the top four states for both illegal and legal corruption.
Why the culture of political corruption germinated in the Garden State isn't a mystery for anyone who's watched Boardwalk Empire. Organized crime sunk its claws into New Jersey politics during the Prohibition era, with mobsters – Italian, Jewish, Irish and others coming from the state's early ethnic communities – paying off police and politicians to look the other way, explained Scott Deitche, author of Garden State Gangland: The Rise of the Mob in New Jersey. The state, even now, remains the only place where the mafia isn't labeled with a specific city, such as the Boston mafia, Dietche said. It's simply called the New Jersey mafia. Members of all Five New York Families, the Philadelphia family, and the homegrown Elizabeth-based mob, the Decalvalcante family, operate there.
Suspicion of the mob's presence in New Jersey is nearly ubiquitous within the state, but six seasons of The Sopranos, a fictionalized story about a mob boss who see a psychiatrist in northern New Jersey, cemented the state's association with organized crime in the early aughts zeitgeist.
"New Jersey is unique in its breadth of political corruption," Deitche said. Post-Prohibition and into the 1960s, politics and organized crime interlaced and tightened. Kids who grew up playing stickball together in New Jersey's urban neighborhoods maintained neighborhood connections into adulthood, Deitche said, even if one of them becomes a major political player and another becomes a mob boss. Both from Bayonne, seven-term New Jersey congressman Cornelius Gallagher and Joseph Zicarelli of the Bonanno crime family allegedly traded favors during Gallagher's political career, Deitche added – though their direct connection was never proven. Gallagher served prison time in the 1970s for conspiring with two Jersey City officials to cover up nearly $400,000 in kickbacks.
Deitche explained that the prevalence of New Jersey's municipalities, where mayors and city councils wield significant power over government contracts, has made them vulnerable to crime figures and corrupt politicians. While many American states have a few major cities and many unincorporated towns, New Jersey has 565 municipalities, according to the New Jersey state library. Once a powerful figure establishes ties within a local government, they can almost wrest control of the community, Deitche explained. For example, Genovese crime family member Anthony "Little Pussy" Russo, who along with his brother John "Big Pussy" Russo inspired the Sopranos character Salvatore Bonpensiero, became the mob boss of Monmouth county after gaining a foothold in the city of Long Branch in the 1970s.
Though the Menendez case doesn't have ties to organized crime, Deitche said, there are political corruption factors.
Menendez rose to power as the mayor of Union City in 1986 after testifying against state legislator William Musto, a former Union City mayor who had mentored him and was later charged with racketeering, The Bergen Record reported. From 1993 to 2006, Menendez was in the House of Representatives – a seat that, after its district was drawn, is now held by his son. After his appointment and subsequent election to the Senate, a New York Times investigation raised questions about contracts and bids granted to Menendez campaign contributors, aides and fundraisers in a Bayonne waterfront redevelopment project. In his 2015 indictment, the Department of Justice claimed Menendez accepted gifts and campaign donations between January 2006 and January 2013 from Florida ophthalmologist Salomon Melgen in exchange for advocating for Melgen's contractual and Medicare billing disputes.
Several congressional Democrats have called on Menendez to step down in light of his current scandal, including fellow New Jersey senator Cory Booker and New Jersey House representatives Andy Kim, Mikie Sherrill, Bill Pascrell, Frank Palone Jr and Josh Gottheimer, the Hill reported. Governor Phil Murphy, who would appoint Menendez's replacement, called for his immediate resignation. Arnold said he was surprised to hear the public pressure from Democrats for Menendez to resign.
"People feel they have to get him out to get another person in in order to keep the seat," Arnold explained. "Or, if he drags it out, it would be damaging to politics in New Jersey as usual."
[ad_2]
Source link