[ad_1]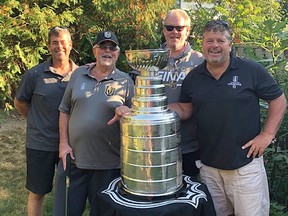 Article content
Bathed in brilliant October sunshine, Canada's oldest professional sports trophy glitters and gleams atop a table outside Kent Hawley's Bayridge home in Kingston. The steady stream of family and friends who arrive and gradually fill the backyard await their turn for a photo-op with Lord Stanley's now-iconic mug, which was first awarded in 1893. This is Hawley's long-anticipated "day with the Cup," and the seasoned shinny scout with the National Hockey League champion Vegas Golden Knights is sharing it with those closest to him.
Article content
"As a kid, like any young hockey player, all I thought about and dreamed about was one day winning the Stanley Cup," Hawley says, rewinding the calendar back to a time when he was knee-high to a netminder's goal pad.
Article content
"It's funny how things go in life," he reflects moments before the Cup arrives at his door. He recalls the 1986 NHL draft when the 6-4, 210-pound centre was the Philadelphia Flyers second-round pick (28th overall). "Back then I thought I'd have a chance to win one or two cups as a player, and here I never even played one (NHL) game! But this is just as rewarding and maybe even more satisfying considering how long it's taken."
That long wait officially ended in June when the Knights throttled the Florida Panthers in a 9-3 Cup-clinching victory.
Article content
"I've never seen Kent so excited," remarks lifelong pal Charlie Mignault. The two have been fast friends since Grade 4 at Archbishop O'Sullivan School. Mignault was best man at Kent and Kelly's wedding 32 years ago. "This is the pinnacle of Kent's career," he says, quickly adding, "to date, that is."
Hockey lifer Hawley, 55, has clearly paid his dues. He's been involved in the professional game as a player, coach and amateur scout for more than three decades. Before landing with the Golden Knights, he spent 10 years beating the junior bushes for prospects on behalf of the Edmonton Oilers, including his first season in 2006 when the Oilers lost Game 7 of the NHL final, a near miss that Hawley, in hindsight, doesn't regret.
Article content
"I had no fingerprints on that team," he explains matter-of-factly. "I'd just started with Edmonton."
Not so with the defending league champs. "It's much different with the Knights, because I've been a part of the organization for a while." Hawley is in his eighth campaign with Vegas.
Sitting next to the Cup, Hawley's dad, Wayne, the former city cop, says it's not "how" but "when" that counts. "Kent couldn't get it as a player, but he got it as an executive, and that's just as good in my books."
Among the visitors on this sun-dappled day are Howie Borrow and Steve Poirier, official "Cup keepers" from the Hockey Hall of Fame. It was Borrow and Poirier who brought the trophy to Kingston and who later in the day — scouts have it for six hours — will accompany it to Cup appearances in Quebec, Connecticut, New Jersey, Minnesota and on to the Prairies.
Article content
"The Stanley Cup is on the road for 320 days a year," says Borrow, who's travelled the world as one of the Cup's four guardians, including a 2018 visit to Moscow's Red Square, where Washington superstar Alex Ovechkin filled the bowl with $15,000 worth of caviar.
Aside from a fish-eggs container, the Stanley Cup has served in past as a pool toy, a dog dish, a urinal (yuck!), a baptismal font, a cooler, an ashtray, an on-stage prop for strippers, a planter, a firepit, a thoroughbred's water bucket, and a ring bearer for one player's proposal. It's been abandoned, tossed off a second-storey deck, and drop-kicked onto the frozen Rideau Canal. The Cup has even fought back on occasion, like the time it chipped two of Maurice Richard's front teeth when the Rocket misjudged a sip. It's been to more nightclubs and parties than celebrity nitwit Paris Hilton.
Article content
The tradition of allowing each player to have the trophy for a day began with the New Jersey Devils in 1995, one year after the rowdy Rangers of New York "returned the Cup in three pieces," Borrow notes. Ever since then, the legendary silver chalice has been accompanied by a Cup-keeper. In 2009, a midnight curfew was imposed to prevent party-prone players from keeping bleary-eyed Cup-keepers up till dawn.
The Stanley Cup left the continent for the first time in 1996 when Colorado Avalanche linchpin Peter Forsberg took it home to Sweden. In 2006, it was brought back to Sheffield, England, to the site of the London silversmith shop where the original Cup was made over a century earlier — and subsequently purchased by Lord Stanley of Preston for 10 guineas, or about $50 Canadian.
Article content
It's been to the summit of mountains and to the bottom of more than one swimming pool. Seven presidents have hosted it at the White House. It's bobbed on a fishing trawler, flown in a helicopter (with pilot Guy Lafleur), and been inside a decommissioned space shuttle. It rode in the Rose Bowl parade, a Gay Pride parade, and spent time inside an igloo in Rankin Inlet.
A personal favourite happened in 1962. The Cup was stolen by a disillusioned Montreal Canadiens fan at old Chicago Stadium, where the Blackhawks were busy ousting Montreal from a semifinal series. The diehard Habs patron, unable to stomach defeat, picked the lock on a glass display case in an empty lobby during the game. He reached in and made off with the puck game's top prize. Fortunately, security personnel nabbed him near the exit gate. The following day in court, he was convicted of disorderly conduct and fined $10 after informing the judge that he was "simply bringing the Cup back to Montreal where it belongs."
Article content
The Cup in the Hawley backyard is a "presentation cup," one of two replicas, including one that remains permanently on display in the Hall of Fame along with the original bowl and bands of teams and player names that are removed every 13 years to make room for new victors. The next to vanish, in eight years, will be Cup winners from the 1966-67 Maple Leafs to the 1976-77 Canadiens.
I once wrote a column on the numerous misspellings on the 17-kilogram (37 pounds) trophy. It's a wonder Montreal goalkeeper Jacques Plante didn't go to his grave with an identity crisis, given the fact that during the Habs' unprecedented run of five straight championships in the mid-1950s, Plante's full name was misspelled four different ways.
Article content
Abbreviations can be tricky shortcuts. Canadiens defenceman Ken Reardon, assistant general manager of Montreal's 1957 Cup-winning club, had a unique job description beside his name — "Ass Man." Ditto for Frank (King) Clancy, assistant coach of the Leafs' '67 champs. King's title? "Ass Coach."
Prior to leaving the Hawley home, I cornered Kelly Hawley, mother of the couple's three children, sons Tanner and Chase and daughter Jamey. Kent calls Kelly the "epitome of the hockey wife."
"During the season, Kent is home two days a week, and that's on a good week," she remarks on her husband's demanding schedule. "Sometimes he's gone for an entire week. But hockey's all he ever wanted to do."
As for the 10-guinea goblet drawing such a crowd to the Hawley backyard, she says: "For his whole life, (winning the Cup) is what Kent's hoped for. The Stanley Cup is a little boy's dream, and in a lot of ways Kent's still like a little boy."
Patrick Kennedy is a retired Whig-Standard reporter. He can be reached at pjckennedy35@gmail.com.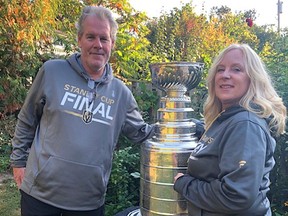 [ad_2]
Source link