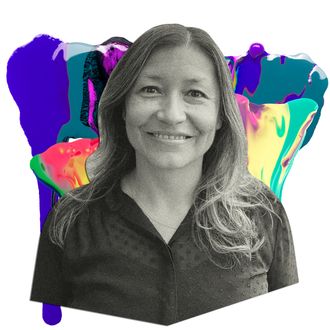 Photo-Illustration: by The Cut; Photo: Courtesy Julie Chávez Rodríguez
Julie Chávez Rodríguez has just moved to Delaware, where the local antique scene recently blessed her with a sentimental find. "I found this set of bowls that reminds me of my grandmother," she says. "I'm not really an antiquer, but my niece and my partner are, and they were able to lure me out." Admittedly, there isn't much time for treasure hunting when you're running the reelection effort of President Joe Biden and Vice-President Kamala Harris. "It's pretty much 24/7," Chávez Rodríguez confirms. As 2024 campaign manager, her calendar contains a near-constant stream of commitments. Her daily challenge is "being able to meet the moment," whether it's responding to a breaking news event or crafting longer-term campaign strategies. "The balance of that is really important," she says. "Especially as we think about the ways in which we reach people today and how people are consuming information."
Public service is a cornerstone of her personal belief system, shaped in large part by the legacy of her grandparents, the pioneering labor-rights activists Cesar Chávez and Helen Fabela Chávez. "Growing up in a community of people that really saw themselves as being a part of something bigger than anything that was personally beneficial for them — that was pretty remarkable, to experience and to witness firsthand," she shares. "And it became infectious." She lives in Wilmington with her niece. Her partner travels frequently and is based out of New Jersey, so they're "a bit of an Amtrak couple." Here's how she gets it done.
On her morning routine:
I wake up around six, six thirty. I'm trying to get back into a workout routine since my apartment building does have a gym. The aspirational is getting up, checking email and seeing the latest in terms of any news, then getting a quick 30-minute workout in and getting ready to start my day. I'll have maybe a boiled egg or two or some Greek yogurt with granola. I am an avid coffee drinker — I like both hot and iced. My commute is fortunately only about a mile and a half. It's a quick drive over a little bridge and a straight shot into the office. I do listen to Morning Edition in the morning. It's my soothing way to get into the news, but at my own pace, and to kind of ease me into the day.
On managing stress and staying grounded:
I do enjoy cooking. That is a decompressing activity for me. Working out definitely helps me manage stress. I enjoy a good Epsom-salt bath to just relax and release. I didn't think about it in this way, but being able to see the picture of my mom in my office really grounds me — just her impact in my life and my upbringing and everything that's brought me to where I am now.
On the legacy of her lineage:
It's influenced me at every turn and every second of my life. I was raised mostly at the headquarters of the United Farm Workers near Bakersfield, California. I thought that in my lifetime my work would continue specifically with the UFW. I continue to champion their organizing efforts and their cause. When the opportunity came to sort of translate that into what it meant for me, it was exciting to take my grandfather's vision to what I see as the next level: to continue to have the same kind of impact he had on farm workers and on many Latinos' lives in this country, with the same focus, the same sense of humility, and the same sense of real purpose, but at a greater scale.
On a typical work day:
I don't know that there is one. It's helping to build out a fundraising event or connecting with our grassroots donors. Or actually going out and meeting with key supporters. That tends to be one big bucket and chunk of work. The other is building out our campaign coffers, staffing up, budgeting, and making sure we're building the operations of our organization in the right ways. And then planning for major moments we have as a campaign. Yesterday was Labor Day, so while the president was out doing official work at Labor Day events, we had national advisory-board members in all of our key battleground states talking about the president's record for union members and working Americans. Later this month, we'll have the second Republican debate that we're planning for. Hispanic Heritage Month is another strong opportunity to get out and communicate and connect with a key part of our coalition. Those are some of the big buckets that are really occupying the bulk of my time and my day.
On her career path:
I'll be the first to admit I didn't necessarily have "campaign manager" on my vision board. But what has always been a driving force for me is determining where I can have the greatest impact. In this moment of time, I can't think of a more important place for me to be personally — and to use my time, energy, and talent — than to ensure that President Biden and Vice-President Harris have four more years to lead this country forward. What I have witnessed in terms of the progress we've made in just two and a half years coming out of some really challenging times for our country, and seeing the trajectory we're on and the groundwork we're laying for the future, there is no better leadership for the country. I can't imagine doing anything else more worthwhile with my time right now.
On questioning "good" advice:
There's some advice I've received that's not so much terrible or not worth following, but that as a woman of color I have to be cautious with in terms of how I choose to share it with others. It was advice I got early on: If you want to get a lot of things done, sometimes you've got to not care who gets credit. And I think it's a really extremely valuable bit of advice. I feel like I've been able to get a lot done as a result. But I say it with caution when I share it with women of color. Because too often we are in the trenches, doing the work and not getting the credit in the ways that I think are important and in keeping with the kind of leadership we need to continue to cultivate.
On what motivates her:
Part of my philosophy in life is I'm the type of person that never fully arrives. I'm curious and constantly looking for what's new, what's next. That sense of curiosity is a big part of who I am and what drives me to continue to work hard and make sure that I'm showing up — in this instance, for the president and for the vice-president — at every turn.
On being the only woman of color in the room:
We know we have an army of women supporting us and standing with us in that room, even if they're not physically there. It's why I started the interview mentioning my mother. I always feel she's in the room with me, and my grandmother and other women that may see themselves in me or in my experiences. The second bit of advice — and again, this is one the vice-president echoes often and that I feel I was also raised with — is we can be the first, but we can't be the last. It's knowing and stepping into those rooms and sitting at those tables with that understanding and that sense of pride and empowerment. We are entrusted to be here and we're going to ensure that we're not the last ones in these seats.
On small indulgences:
Gummy bears are my favorite. I'm not a huge chocolate person, although I definitely enjoy a good piece of chocolate with a glass of red wine. But there's just something about gummy bears. They've always been a nice little treat, especially when I'm traveling. I'll pick up a bag at the airport and keep it along the way. I don't really discriminate, but the old-school Haribo gummy bears are usually my go-to.
On unwinding at the end of the day:
Depending on the time, I'll go home and cook a little something. I usually end up watching the evening news, browsing through my email, or catching up on any text messages I missed. And then connecting with my niece, being able to just reflect with her, see silly TikTok videos or cute little puppy videos. It's getting a chance to connect with her, spend some time together, and just decompress that way. In this role, it's kind of hard to unplug. But I'm also the type of person that's hard to unplug because so much of the work I do, I'm extremely passionate about. I feel very fortunate.
On the people who help her get it done:
One is my partner, Aqeela, who has just been a rock as I have weathered both working in the administration and now working on the campaign. He has been just tremendous. Not just a rock, but someone who also keeps me focused on my own self-care, which is not something I was very good at prior to our partnership. And then my niece, Isabella, has recently joined me on the campaign and is a constant reminder of the talent and resilience of young people today.
This interview has been edited and condensed for length and clarity.
Source link