The new-look University of Saskatchewan Huskies — with nine new faces on the roster and the departure of some key players like Connor Hobbs, and Jared Dmytriw — continue to prepare for the upcoming Canada West men's hockey season.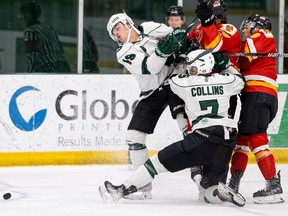 Article content
Chalk it up to some early growing pains.
The new-look University of Saskatchewan Huskies — with nine new faces on the roster and the departure of key players like Connor Hobbs, Jared Dmytriw, Evan Fiala and Cael Zimmerman — continue to prepare for the upcoming Canada West men's hockey season.
Article content
Over the weekend, the Huskies played host to the reigning Canada West conference champion University of Calgary Dinos at Merlis Belsher Place and fell short with a pair of losses, 4-2 and 5-2.
Article content
Growing pains?
"I think so, for sure," said U of S head coach Brandin Cote, whose team will wrap up the exhibition season this coming weekend in Cold Lake, Alta., with a pair of games against the University of Alberta Golden Bears.
"There are some guys who are still finding themselves in the league. This (Calgary series) was a real good test against a veteran team that has proven they know how to win. We've just got to find that mojo and clean up our own end, clean up the turnovers. We'll be going ahead here."
In terms of puck possession and carrying the play, the Dogs came up with a better effort Saturday than Friday but were once again punished by defensive breakdowns and too many turnovers.
"It's pretty evident and they know that," admitted Cote. "But, against good teams, they just make you pay for it, right? So, at the same time, it's encouraging. I like our skill; I like our speed. We're squeezing the stick a little too tight offensively, but we're making some good plays. Our power play's been good. Our penalty kill has been really good. All of that. But just the detail of the turnovers and inopportune breakdowns.
Article content
"It's pre-season so I'm not going to get too concerned about it because we're just going to work on it. Obviously there are things we can identify and those are things you can fix."
On Saturday, the Huskies outshot the Dinos but couldn't capitalize on scoring opportunities.
"Overall, I think the effort was there," said Cote. "We threw a lot at them. Their goaltender (Carl Stankowski) played well. We missed some nets. That could have changed the tide a little bit, but, early on in the game, those ones are hard to come back when those breakdowns are there."
Cote was impressed with the new Huskie recruits, led by former Saskatoon Blades forward Josh Pillar.
"I like him — Pillar's a player," said Cote.
"(Keaton) Sorensen's very smart. (Raphael Pelletier) Pelt's is fast, tenacious. Cade Hayes has got some skill. Mac Gross, he's got some offensive ability — he's just got a little bit of maturing to do that way …
"When we get Gunner (Kinniburgh) and (Rhett) Rhinehart and Cole Jordan in the mix there, our D all of a sudden looks like a (formidable) D corps."
Roddy Ross played both games in net for the Huskies while Jordan Kooy nurses an injury. Forwards Liam Keeler and Vince Loschiavo, who played in Friday's game, did not play Saturday.
Article content
Kooy, Jordan, Rhinehart, Kinniburgh (NHL Columbus Blue Jackets camp), Jace Isley (NHL New Jersey Devils camp), Reed Jacobson and Cohner Saleski were missing from the Huskies' lineup over the weekend.
"We've got a lot of guys so I didn't want to pop in everyone this weekend," said Cote. "Everyone got in last weekend, so we'll try and get those guys in next weekend, still. We'll hopefully get a few guys healthy and hopefully we get those guys back, I'm not sure by next weekend, but we've got to keep plugging away here and get ready for the regular season — that's the focus.
"The theme is: we don't want to be a rush team. We can skate, but we can't be trading chances. That's the biggest thing. That's a fixable thing. We'll get that sorted out. It's early. But I like where we're at. I like our mentality. We've just got to keep working at it."
dzary@postmedia.com
Huskies skate ahead with a big group of recruits

Kerry Preete happy to give back as Huskies alumnus
The Saskatoon StarPhoenix has created an Afternoon Headlines newsletter that can be delivered daily to your inbox so you are up to date with the most vital news of the day. Click here to subscribe.
Source link