A massive fire ripped through a rowhome on the 200 block of Hamilton Avenue in Trenton, New Jersey, on Friday morning. One person was killed and two other people were hurt, officials said.
The fire happened just after 6:30 a.m., Trenton Fire Department director Kenneth Douglas told NBC10.
The two people who were injured were taken to a nearby hospital. One victim is listed in critical condition and the other is stable, according to Douglas.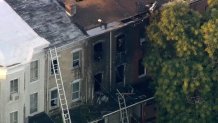 Skyforce10 was over the scene shortly after the fire was put out just after 7 a.m. The second floor of the home could be seen burned with the windows gone.
Multiple fire crews could be seen at the scene with ladders extended.
Source link