MetLife Stadium has often been dubbed as practically a home for season-ending lower body injuries, and on Monday night, it added another to its resume.
In his first drive with the New York Jets, Aaron Rodgers ruptured his Achilles, ending his season hardly before it started.
Several players, including Rodgers' longtime teammate Randall Cobb, were quick to place blame on the turf, but not everyone is jumping on that train. The stadium even underwent a new turf installation in the offseason because of the amount of injuries that have occurred there in recent years.
CLICK HERE FOR MORE SPORTS COVERAGE ON FOXNEWS.COM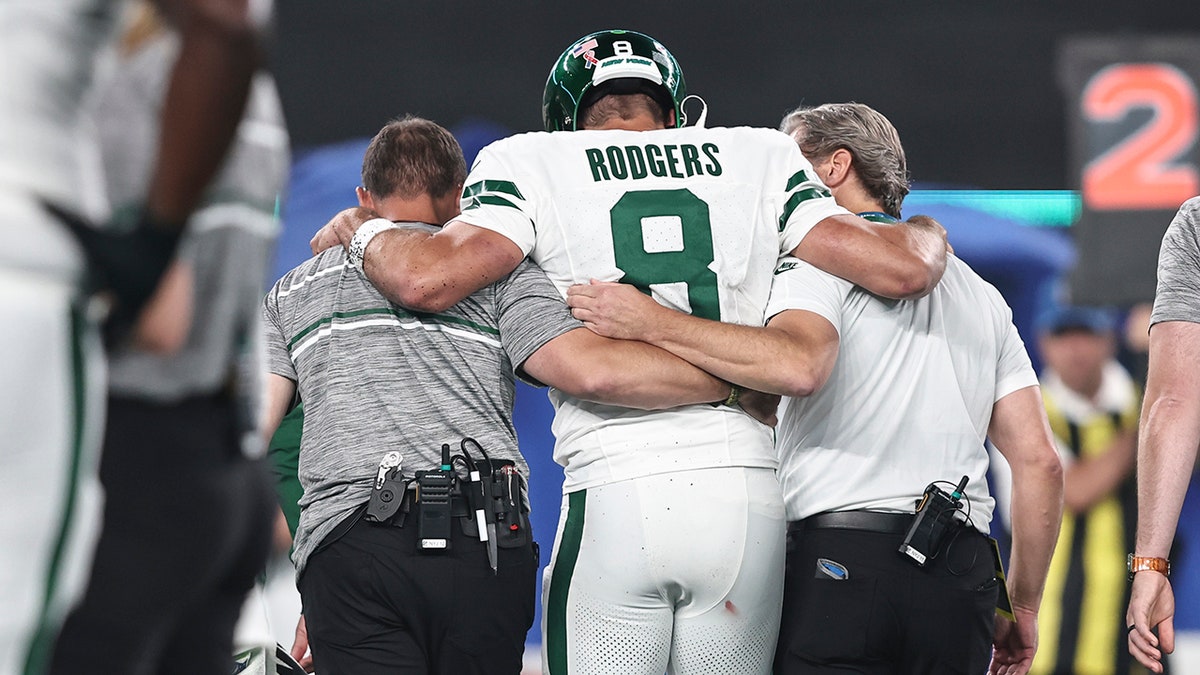 Jets head coach Robert Saleh noted that he knows players prefer grass, but it is hard to blame Rodgers' injury on the playing surface.
"No. If it was a non-contact injury, I think that'd be something to discuss obviously," Saleh said on Tuesday. "But I think that was trauma-induced. I do know the players prefer grass and there's a lot invested in those young men."
The injury came when Rodgers was sacked by Buffalo Bills' Leonard Floyd when his left leg was caught underneath him. Slow motion replay appeared to show a visible pop near the calf area, and Rodgers did miss some time in the offseason with an injury to that calf.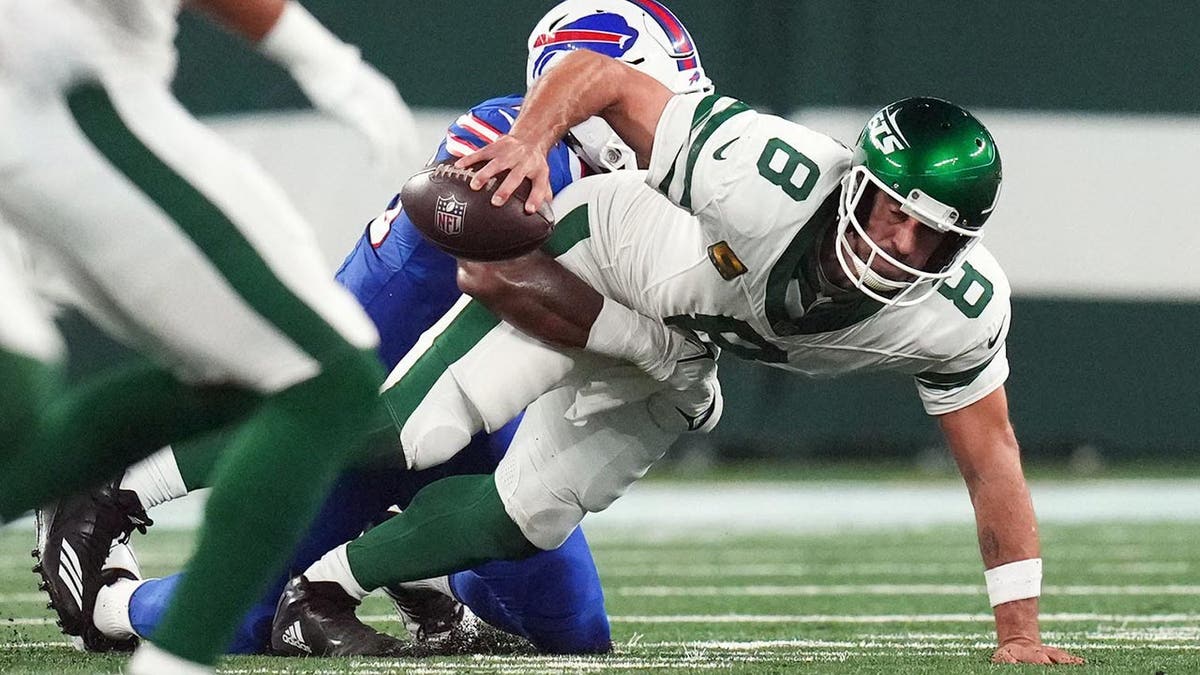 JETS' GARRETT WILSON REVEALS AARON RODGERS' TWO-WORD MESSAGE TO HIM AFTER SEASON-ENDING INJURY
Cobb said the NFL is "more worried about making money" than player safety.
Jets cornerback D.J. Reed took to X, the platform formerly known as Twitter, to share a similar sentiment.
"​​We need real grass for all of our stadiums," he said in a post directed at the NFL.
Packers offensive lineman David Bakhtiari also blamed the turf for Rodgers' injury in a series of messages on X. 
"Congrats @nfl. How many more players have to get hurt on ARTIFICIAL TURF??!" he wrote. "You care more about soccer players than us. You plan to remove all artificial turf for the World Cup coming up. So clearly it's feasible. I'm sick of this..Do better!"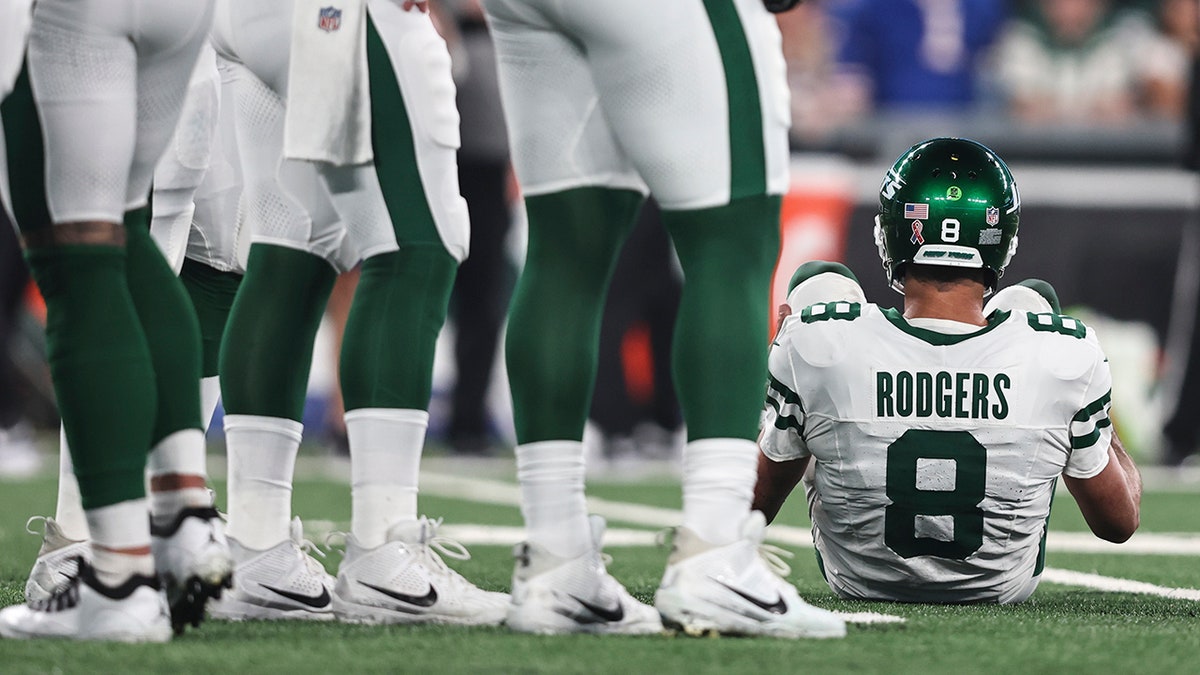 CLICK HERE TO GET THE FOX NEWS APP
During a press conference Tuesday, NFL executive Jeff Miller said there were no statistical differences in injury data for Achilles' injuries suffered on natural grass vs. artificial turf fields, dating back to 2015.
MetLife's new, multilayer, dual-polymer monofilament fiber version promised to reduce turf-related injuries.
Fox News' Paulina Dedaj contributed to this report.
Source link