The banter is fun and good-natured, but the stakes are high as the Vancouver Whitecaps visit expansion side St. Louis City SC on Saturday with valuable Western Conference points on the line.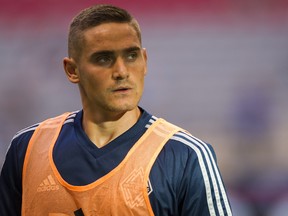 Reviews and recommendations are unbiased and products are independently selected. Postmedia may earn an affiliate commission from purchases made through links on this page.
Article content
You have to give the St. Louis' media credit: they tried, repeatedly, to get Jake Nerwinski to say something spicy, something quote-worthy. Something, anything, to hang a story on.
Article content
But the St. Louis City SC fullback, late of the Vancouver Whitecaps, didn't take the bait. As St. Loo media prodded him to make a bold statement ahead of Saturday's MLS battle against his old team, the longtime Cap stayed strictly bland.
Article content
---
NEXT GAME
Vancouver Whitecaps vs. St. Louis City SC
Saturday, 5:30 p.m. PT, CityPark Stadium
TV: Apple TV, TSN. Radio: AM980 CKNW
---
Q: What can you dislike about Vancouver? What is there to get angry about?
A: They're just our next opponent. I know I played there for six years and I owe a lot to that club for giving me a chance, but I'm here now and I'm looking to get three points.
Q: So you say there's nothing, no rivalry forming … but is there at least like a chip on your shoulder? Is this a statement game?
Article content
A: I'm not trying to look at it that way. I'm not trying to hype this game up too much where I get my emotions all messed up. I'm a level-headed guy, I just stay in my own zone … Would it be great to beat them? Of course, but it'd be great to get another three points and maybe be on top of the league.
Of course, the fine folks covering the remarkable rise of expansion St. Louis to the lofty heights of the Western Conference's upper echelon have only had a few months to get to know the City fullback. They don't know about his Jersey Boy bromance with Caps striker Brian White, the story about Utah puppy Ash, his love of air fryers or which buttons to push to get him to zest-up his responses.
Article content
Enter Vancouver journalist Har Johal.
"How's the banter this week? … How do you stop Brian White?"
A bright grin, a "hello Har!" And he was off.
"Yeah, I'll probably talk a little smack to him," Nerwinski said. "That's the only guy … that's one of my good friends. He's a good player, he's got a great work rate, he's good in behind … I think we just need to be aggressive with him. We need to make sure that we don't give him space.
"Maybe I'll hit him or something," he added with a chuckle. "I don't know. We'll see. Maybe just a little check, you know?"
White and Nerwinski built a tight bond in their time in Vancouver, with both growing up 20 miles apart in New Jersey. They were regularly interviewed together — and more often, took over the microphones to interview each other — and have been texting each other in the lead-up to the game.
Article content
"I think some people have a tendency to (act like) they're not friends at all," said White, the Caps' leading regular-season scorer. "I think the friendliness brings out the competitiveness in me. I find it really fun to compete with them; go hard in tackles and try to beat them up," he said, smiling.
Article content
There might be a third added to the Jersey Boys; White grew up playing with City winger Jared Stroud in the eastern seaboard state. White also played with Tim Parker in New York with Red Bull, where current City head coach Bradley Carnell was an assistant.
"It's nice to see those guys doing so well at St. Louis," said White. "It's going to be a good time … just a little bit more intense, obviously. But it's fun to play against guys that you're so close with."
The one member of the St. Louis' media was right; this will be a statement game. But it's for everyone involved.
On one side, the nascent MLS team is keen to prove that their hot start wasn't a fluke. They were just the third team — and only expansion side — to start a season 5-0, three of those being come-from-behind wins, and were the first expansion side to win their first three games on the road.
Article content
St. Louis (7-4-1) has stumbled a bit since then, with just two wins in their last seven games, but is currently third in the West, a point behind No. 2 Seattle with two games in hand.
On the other side, the Whitecaps (4-4-5, 7th West) need to show that they can win a league game away from B.C. Place, something they haven't done since last June — a 14-game winless skid (0-7-7).
The key to Saturday's game will be pressure versus possession.
City are second in goals-per-game (1.97), but that number vastly outperforms their xG by plus 8.5, which is by far and away the league leader. Ten of their home goals have come from open play (second MLS) while conceding just two (third).
But St. Louis are a high-pressure counterpunching team that cedes possession to the other team, averaging a league-low 44 per cent. The Whitecaps will be happy to have the ball and let it do all the work, resting their legs as they go through an extended congested schedule of two-a-weeks, but can't afford to make any mistakes for City to pounce on.
Article content
"They're a very good team," said White. "They play with a high-intensity style that can smother some opponents, can suffocate them, especially with their high pressure and always wanting to go forward. So it's going to be a tough test."
jadams@postmedia.com
Scary injury to Ali Ahmed casts pall over Vancouver Whitecaps victory

Whitecaps salaries 2023: Gauld tops the list, Ahmed and Becher the value winners
---
Spring subscription sale: Our in-depth journalism is possible thanks to the support of our subscribers. For a limited time, you can get full online access to the Vancouver Sun and The Province, along with the National Post and 13 other Canadian news sites, for just $40 for one year or $1 a week for 52 weeks. Support our journalism by subscribing today: The Vancouver Sun.