It's expected there will be a preferred bidder selected before the end of this coming week.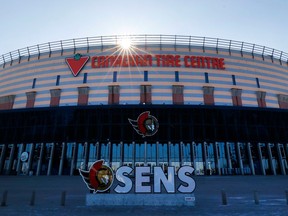 Article content
The sale of the Ottawa Senators has cleared another potential hurdle and is on the road to being completed.
Article content
All four potential buyers of the sought-after Senators have met with the daughters of late owner Eugene Melnyk, Postmedia has learned.
Melnyk bequeathed the National Hockey League franchise to his only children, Anna and Olivia, when he passed away in March 2022. The Melnyk family must sign off any sale of the Senators, as do the Melnyk estate, New York-based banker Galatioto Sports Partners and the NHL.
The meetings, in separate video calls, took place sometime last week.
Sources said this was a signal that GSP had moved the sale process to the final stages, and it's expected there will be a preferred bidder selected before the end of this coming week.
The sources added that Anna, who makes her home in California, and Olivia, who is spending a school term in Australia, expressed their desire to keep as much as a 10-per-cent stake in the franchise.
Article content
We're told all bidders were willing to keep the Melnyks in the fold if they gained control of the franchise.
Postmedia reported Thursday this had become essentially a three-horse race between Toronto billionaires Steve Apostolopoulos, Jeffrey and Michael Kimel and Michael Andlauer with GSP continuing its due diligence through the U.S. Memorial Day holiday weekend.
Los Angeles-based producer Neko Sparks also bid, but sources said he had yet to firm up his financing, so it's doubtful he'll be the next Senators owner. Though he's still in the process, Sparks has also put together a large group of partners, which is not always a scenario the NHL likes.
The belief in NHL circles is that Apostolopoulos came in with the "cleanest" and "highest" binding bid at $1 billion (all figures U.S.) at the May 15 deadline.
Article content
If the Melnyk estate accepts the offer or gets more for the franchise, it would be the highest sale price in NHL history.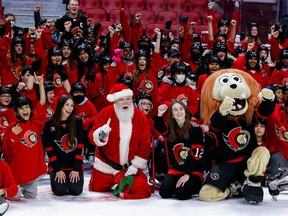 Apostolopoulos shot to prominence earlier this year with his high-profile $6-billion bid for the National Football League's Washington Commanders, but he was ultimately outbid by Josh Harris, owner of the NHL's New Jersey Devils and the Philadelphia 76ers of the National Basketball Association.
His only partners are his brothers, Jim and Peter, plus we're told the bid isn't heavily leveraged with debt. Apostolopoulos has former NHL forward Nick Kypreos as an adviser.
Apostolopoulos is the managing partner of the Triple Group of Companies, a commercial real-estate firm located in Toronto. He also is the founder of Six Ventures, a private equity fund that manages more than $5 billion.
Article content
The bid by Apostolopoulos has left Andlauer and the Kimels trying to determine if they want to match the bid or team up to see if they can beat the offer.
A week ago we were told Andlauer was "confident" he would win. He remains in the mix with the Kimels, so we'll see where this goes.
Sources say Jeffrey and Michael Kimel, minority partners in the Pittsburgh Penguins until that NHL club was sold to Fenway Sports Group in 2021, and Andlauer have both been trying to weigh options. All parties involved knew the first binding bid might not be their last.
It would appear both Andlauer and the Kimels are hopeful their bids are strong enough to convince the Melnyk estate, GSP and the NHL to accept one of them.
Sources said the other three bidders started at $850 million and Sparks put down a $950-million offer that wasn't fully funded. That's why he was adding partners as late as last Monday.
Article content
Sparks was on social media Saturday, sparring with people and denying reports that his group was underfunded.
"Line up with the other haters because we're not going anywhere," Sparks responded to one person on Twitter.
No matter which group buys the Senators, they're expected to try to engage in a partnership with local businessman Jeff York.
York, a former chief executive officer of Farm Boy, brought together a group of Ottawa business people who want to be involved in the franchise.
We're also told York has raised more than $100 million from a group of 20 local investors at $5 million each to be a part of whichever bid won the bidding.
It's believed York's representatives have spoken to all groups involved in the process.
Part of their goal is to get the business community re-engaged with the Senators and they feel supporting a new owner would be a strong step.
Sooner or later, a decision has to be made by GSP and the Melnyk estate, so the fact Anna and Olivia Melnyk have met with all the parties means this process is close to completion.
bgarrioch@postmedia.com
No winner decided in the billion dollar battle for the Ottawa Senators

GARRIOCH: The wait for the Senators new owner has gone into OT