The Eras Tour is finally coming to MetLife Stadium this Memorial Day weekend.
Tens of thousands of Taylor Swift fans are expected to descend on the New York City area. Given that the East Rutherford stadium can hold 82,000 people, and there are three shows scheduled for Friday, Saturday and Sunday.
That's upwards of a quarter-million fans flocking to the region.
Whether you fought "The Great War" with Ticketmaster and were one of "The Lucky One[s]" to snag a ticket, or if you're still holding out hope of getting to see the show – here's everything you'll need to know.
"The Very First Night"
Taylor and opening acts Phoebe Bridgers (Friday-Sunday), GAYLE (Friday), Gracie Abrams (Saturday) and OWENN (Sunday) play the 82,500-seat MetLife Stadium Friday, Saturday and Sunday. 
Friday, May 26, 2023 at 6:30 p.m.: Taylor Swift with Phoebe Bridgers and GAYLE
Saturday, May 27, 2023 at 6:30 p.m.: Taylor Swift with Phoebe Bridgers and Gracie Abrams
Sunday, May 28, 2023 at 6:30 p.m.: Taylor Swift with Phoebe Bridgers and OWENN
How to Get There: Will You Need a "Getaway Car"?
New Jersey Transit is urging Swifties to purchase round-trip train tickets in advance, ideally on the NJ Transit app. However, NJ Transit says they will not cap the number of tickets sold. 
According to their website, fans traveling on NJ Transit trains to MetLife Stadium should purchase their roundtrip tickets from their originating station to Meadowlands Station to avoid boarding delays. Tickets purchased on the train will include a $5 surcharge for each ticket. 
If You're Driving, Will You Need to Park "Behind the Mall"?
MetLife Stadium says parking lots open at 12:30 p.m. the day of each show. It's $40 per car, $100 per limousine and $160 per bus. If we've learned anything from TikTok, there will be traffic, so plan accordingly. 
The 1975's Matty Healy was at Taylor Swift's recent Eras Tour stop. The singer was spotted on stage performing during Taylor's opening in Nashville and then again when the pop star was on stage.
Taylor Will Never Go Out of "Style," But What Bags Are Allowed at the Shows?
MetLife Stadium's policy states that bags must be clear (a.k.a. see-through): 12" x 6" x 12" or less in size, and 1 bag per person. Small purses (clutch-type bags about the size of your hand) 4.5" x 6.5" or less in size (1 per person) are also allowed, and do not need to be clear.
No camera or binocular cases, backpacks, fanny packs, diaper bags, and briefcases/computer bags are allowed either.
For more information on what bags are allowed, click here.
Additionally, food or snacks in a clear plastic bag, factory-sealed, plastic bottles of water or soft drinks 20 oz. or less, empty reusable water bottles (plastic and aluminum) and small handheld portable phone chargers are allowed. 
Put simply, if you're bringing a drink inside, it must still be factory-sealed. Otherwise, a reusable water bottle can be brought in, but it must be empty upon entry. There are water fountains located inside the stadium where the bottles can be filled.
As far as other common items not allowed, be glad the weather looks good for the weekend, because umbrellas are not allowed. Also, the MetLife Stadium site lists banners or signs as forbidden as well.
For a full list of what is and is not allowed, click here.
Taylor Swift is loving life! During her latest stop on her Eras Tour, the songstress told the crowd in Boston that she's never been happier. "I've just never been this happy in my life in all aspects of my life ever … And I just want to thank you for being a part of that," she told the crowd. "It's not just a tour, I just sort of feel like my life finally feels like it makes sense."
You May Be Spinning Like a Girl in a Brand New Dress, But What About Merch Stands and Trailers?
Taylor Nation, Taylor Swift's official fan group, has been releasing the days and times for the merch trailer on the Thursday before each concert weekend. It gives fans who are going to the show or not the chance to get swag early. 
Again, as we've seen from TikTok, be prepared for long lines, however, it's a great chance to make friendship bracelets. 
Speaking of…Make the Friendship Bracelets, Take the Moment and Taste it:
Swifties from Glendale to Boston have been making friendship bracelets to trade at the shows. Think favorite song lyrics, Taylor Swift quotes, special dates…get creative. 
If You're Hoping to Keep Your Hearing Stay "Safe & Sound":
Swift fans who have attended previous shows have recommended concert-friendly earplugs. There are several options available online for under $20. The earplugs promise not to block all the noise or music, but to make the volume safer. 
Standing in a Nice Dress, Staring at the Sunset — How's the Weather Looking?
Our resident Swifties from Storm Team 4 say the chance for "Midnight Rain" will stay south of the tri-state. But hey, maybe an old "Cardigan" couldn't hurt for after the sun goes down.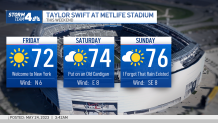 If You're Thinking About a Dive Bar on the East Side…
Some of Taylor's favorite spots in the city and businesses around MetLife Stadium say they're ready for Swifties. In fact, many are all too happy to get a potential boon for business during what typically is a down holiday weekend. Some restaurants are even offering shuttles to the stadium, which would save you money on parking.
Keep a Wide-Eyed Gaze Around the Tri-State This Week:
Everyone from the Museum of Arts and Design to the NYC Ferry is saying, "Welcome to New York."
All I Do Is Try, Try, Try…for Tickets:
The Eras tour is one of the largest and most sought-after concert tours in history — ticket sales in the first place caused a minor meltdown at Ticketmaster.
If you can feel your heartbeat on the High Line and are still trying to get tickets, be prepared to pay up. StubHub, Vivid Seats, TickPick and GameTime are just some of the secondary market sites that are offering seats, but they'll cost a pretty penny.
As of Wednesday morning, the cheapest ticket listed on StubHub for any of the Friday, Saturday or Sunday shows was for more than $1,400. The most expensive tickets were listed for more than $21,000.
If you've been scouring TikTok looking for tips and tricks, there are some people who have had luck with Ticketmaster the day of the show, even right after the shows have started. If you wake in the night, pacing like a ghost because of ticket troubles, be careful where you buy. Scammers are using different ways to dupe Swifties into sending money online for a ticket that doesn't exist.
For more on scams, click here.