39-year-old Aaron Rodgers is the oldest member of this young New York Jets roster. The age certainly doesn't impact A-Rod's throwing prowess, with the quarterback winning two league MVPs in the last three years. However, there is one department where the age disconnect is playing a major role in hampering team chemistry. Rodgers and his young teammates aren't syncing at the same level when it comes to pop-culture references.
First, it was introducing Sauce Gardner to the celebrity sitting next to him at Madison Square Garden. Now, in the latest headlines, the Super Bowl XLV MVP left many in the Jets' camp confused with his favorite MTV show of all time.
Aaron Rodgers confuses teammate (again)
ADVERTISEMENT
Article continues below this ad
During his Jets OTA press conference, the former Green Bay Packers quarterback was asked about his time in New York and how Jersey was playing out for him. Well, Rodgers didn't have a lot of expectations because he didn't know a lot about the area except for two things. Teterboro Airport and the hit reality television series Jersey Shore.
And Rodgers wasn't just a fan of Snooki. He loved everything about the show. "I'm a fan of all of them," he said, before revealing that he has also been to Pauly D's set in Las Vegas back in 2011. Rodgers had to go in-depth about his love for the show when 30-year-old tight end teammate C. J. Uzomah failed to relate to the Jets media group video prompt of 'Do your best Jersey Shore impression'. "C.J. Uzomah was walking next to me and he said he'd never watched the show," the Jets QB1 said.
Well, Uzomah wasn't the only one who didn't know what Jersey Shore was as the fan comments piled up. However, a few reality TV fans celebrated A-Rod's fantastic choice.
Makes sense, he loves drama lolol

— Five2Nine (@Five2NineGaming) May 24, 2023
He's trying to hard to fit in

— PICKETTSBURGH (@Pickettsburgh8) May 24, 2023
Legendary show 😂

— De🅿️ressed Warriors Fan 💔 (@GoIdenState) May 24, 2023
I haven't watched Jersey Shore in years

— Miss.Booty.Lover.👅🔞 (@Freaky_Goddess_) May 24, 2023
"How can you not watch the show? One of the greatest shows back when MTV actually used to have content on it. It's phenomenal," Rodgers told Ozumah, as per his presser.
Before Jersey Shore, it was Jessica Alba
Aaron Rodgers having to introduce entertainment and pop culture icons to his Jets teammates isn't a one-time occurrence.
ADVERTISEMENT
Article continues below this ad
A few weeks ago, the 4x MVP had to explain to Jets cornerback Sauce Gardner, who Jessica Alba was. Alba didn't mind, and even jokingly tweeted at the duo. "He [Sauce] was actually very polite with his elder Aaron Rodgers and everyone else in the room. It was nice meeting you Sauce," Alba tweeted.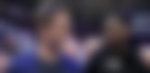 ADVERTISEMENT
Article continues below this ad
Surely, Rodgers will find himself in more such situations where he will have to explain things from his time to his young teammates. However, the Gang Green fan base is perfectly okay with Rodgers' love for Jersey Shore. All they need now is for A-Rod to repeat the iconic Jersey Shore fist bump in the 2023 season after every snap and touchdown.
WATCH THIS STORY: 12 days after Aaron Rodgers scare, Jets teammate raps suspended NBA star for second controversy in two months