NEWS | FEATURES | PREVIEWS | EVENTS
By Al Nigrin
originally published: 09/21/2022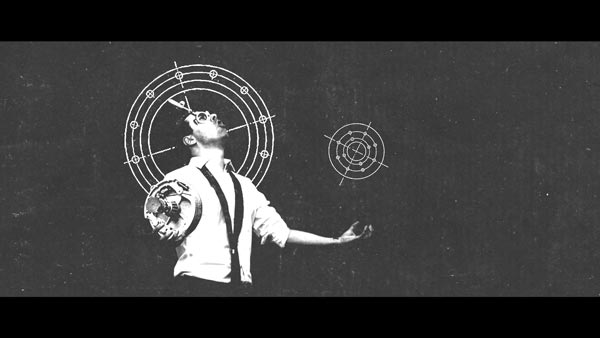 Martin Del Carpio and Martin Gerigk's excellent experimental film Howl screens at the Fall 2022 New Jersey Film Festival on September 23! Here is my interview with Martin Del Carpio:
Nigrin: Your short experimental collage film Howl is presented as a series of journal entries during the pandemic in 2021. Tell us what motivated you to make this film.
Del Carpio: To be honest, I went through an unfortunate situation late last year at my previous regular job where after years of providing exceptional support to the department, I suddenly found myself in a bizarre situation where I had no choice but to leave if I had any self respect. I requested an increase in my salary due to a personal financial situation and felt I was worthy of at least asking for one since upon their own grading, I passed all my yearly evaluations with flying colors. Without going into extreme details, the response I got from the management team was regrettably unprofessional and quite disrespectful simply because they don't believe in advancing their employees especially when it comes to money. I knew then, I was wasting my time and talents with them as a worker. As a way to clear my mind, I started to randomly film different abstract images on my phone during my lunch break and then went back into my journal finding passages as recent as 2021 where I'm writing about financial woes. I thought maybe I had something there and in my mind, started to somehow piece together all the elements. But what also made me passionate about doing this project was finally purging all my emotions of years of working for many other employers where there was simply no respect for the staff. I decided it was time for me to just let it all out! Howl! Through this artistic film, I wanted to express the challenging reality of what it means for those who have a creative soul but to survive and pay the bills, they need to hold a regular job.
Nigrin: I know you have a special love for wolves and it seems as if you are morphing the main character depicted in this film into a type of wolf-man. Am I correct in sensing this?
Del Carpio: Well, it's more of a Demi-God to be honest. A faintly divine being struggling with his everyday existence. Part of his anatomy is machine but the soul is of a wolf meaning a survivor. 
Advertise with New Jersey Stage for $50-$100 per month, click here for info
---
Nigrin: You worked with fellow NJ Film Fest alum Martin Gerigk on this film. Can you tell us who did what in this collaboration?
Del Carpio: Sure thing! Martin Gerigk's role was cutting and editing the film plus creating the soundtrack. I presented to him the footage I shot early on as well as my own writings for him to edit and utilize in the film. He wanted me to be in the film and requested additional footage. I complied although at first I hesitated about putting myself in the film thinking maybe there was no need for that. But the story is mine and so I eventually approached the idea more openly and felt that in order for it to work, I needed to appear in the film from an anonymous perspective. Also we were fortunate to have Nikola Gocic on board as the collage artist who is remarkably talented. With the three of us together, we took my initial concept and created, I believe, something unique and special.
Nigrin: Are there any memorable stories while you made this film or any other info about your film you would like to relay to us?
Del Carpio:  Making this film has been cathartic for me and I'm now in a much better place with a new job where you are truly valued for your work ethics. I'm happy to have been given the chance to see that there are employers out there with the culture being managed more positively and are open to giving opportunities for real growth within the department. No risk no glory. 
Howl screens at the Fall 2022 New Jersey Film Festival along with Soldier Island and Cabeco on Friday, September 23rd.
The film will be Online for 24 Hours and In-Person at 7PM in Voorhees Hall #105/Rutgers University, 71 Hamilton Street, New Brunswick, New Jersey.
Martin Del Carpio will be present at the In-Person screening to do a Q+A after the showing.
To buy tickets go here: https://watch.eventive.org/newjerseyfilmfestivalfall2022/play/62b9b969c9fa4e00b10792eb/62b9abc8b559930029112289
For General Info on the Film Festival go here:  
https://watch.eventive.org/newjerseyfilmfestivalfall2022
---
Albert Gabriel Nigrin is an award-winning experimental media artist whose work has been screened on all five continents. He is also a Cinema Studies Lecturer at Rutgers University, and the Executive Director/Curator of the Rutgers Film Co-op/New Jersey Media Arts Center, Inc.
---
Source link